2015 Bletchingly Stakes result - Joey smokes rivals

By Darryl Sherer for Racenet
The decision by trainer Wez Hunter to run Smokin' Joey in the Group III ... Read More

Bel Thor keeps Wez Hunter's streak alive

By Michael Lynch, The Age
When battling trainer Robbie Laing won the Victoria Derby on the first day of the ... Read More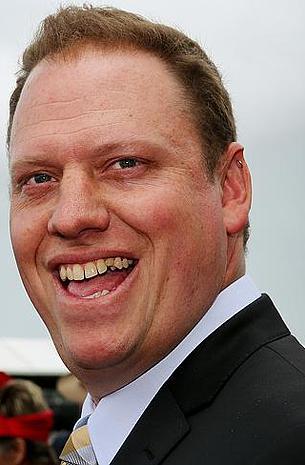 Wez Hunter is one of Victoria's rising training stars!
The Mornington Peninsula-based horseman achieved what many trainers never do when he score a Group 1 win with Smokin' Joey less than four years after getting his licence.
Hunter has continued to carve his way through the Victorian training ranks with access to impressive facilities at the Mornington Racecourse.
An array of tracks for gallops and low impact work along with huge boxes, day yards, and the beautiful peninsula beaches combine to give Hunter a plethora of options.
Wez also has the tools available to give his owners the best possible communication via digital means but he's always available for the good old phone call to discuss any part of a horse's training and racing preparation.
Above all, owning a thoroughbred is always fun with Wez Hunter Racing!
---
Recent Winners
| Horse | Date | Race | Margin | Jockey |
| --- | --- | --- | --- | --- |
| Tata Da Goose | Jun 10, 2019 | 5 - Mornington | 3.30 | Jessica Eaton |
| Tata Da Goose | May 29, 2019 | 5 - Sale | 1.00 | Jessica Eaton |
| Tata Da Goose | Apr 29, 2019 | 1 - Sale | 1.80 | Ms N Beriman |
| Call It A Day | Apr 13, 2019 | 2 - Caulfield | 0.50 | Jessica Eaton |
| Jade Fortune | Mar 21, 2019 | 1 - Racing.Com Park | 0.10 | Jessica Eaton |
| Curra Kid | Feb 09, 2019 | 7 - Yarra Glen | 0.10 | Jessica Eaton |
| Curra Kid | Jan 26, 2019 | 5 - Balnarring | 2.50 | Shaun Cooper |
| Stryking Miss | Jan 01, 2019 | 5 - Mornington | 0.50 | Jessica Eaton |
| Blues Your Ball | Dec 14, 2018 | 8 - Moe | 0.20 | Ms N Beriman |
| Call It A Day | Sep 29, 2018 | 8 - Mornington | 0.10 | J Mott |
| Call It A Day | Sep 13, 2018 | 6 - Mornington | 1.00 | Chris Parnham |
| Stryking Miss | May 08, 2018 | 7 - Mornington | 0.50 | Chris Parnham |
| Blues Your Ball | Apr 20, 2018 | 1 - Cranbourne | 2.80 | B Melham |
| Curra Kid | Nov 07, 2017 | 3 - Bairnsdale | 1.50 | Harry Grace |
| Call It A Day | Apr 07, 2017 | 6 - Cranbourne | 1.80 | J Mott |
Latest Results
| Horse | Finished | Date | Race | Margin | Jockey |
| --- | --- | --- | --- | --- | --- |
| Tata Da Goose | 4 | Jun 19, 2019 | 3 - Sandown-Hillside | 4.40 | Jessica Eaton |
| Tata Da Goose | 1 | Jun 10, 2019 | 5 - Mornington | 3.30 | Jessica Eaton |
| Call It A Day | 12 | Jun 08, 2019 | 5 - Flemington | 16.80 | Jessica Eaton |
| Tata Da Goose | 1 | May 29, 2019 | 5 - Sale | 1.00 | Jessica Eaton |
| Call It A Day | 10 | May 26, 2019 | 6 - Sandown-Lakeside | 8.20 | Jessica Eaton |
| Tata Da Goose | 3 | May 15, 2019 | 6 - Sandown-Hillside | 3.10 | Ms N Beriman |
| Tata Da Goose | 1 | Apr 29, 2019 | 1 - Sale | 1.80 | Ms N Beriman |
| Stryking Miss | 6 | Apr 29, 2019 | 8 - Sale | 2.40 | Mikaela Claridge |
| Jade Fortune | 11 | Apr 29, 2019 | 6 - Sale | 6.30 | Jessica Eaton |
| Call It A Day | 3 | Apr 27, 2019 | 2 - Caulfield | 0.30 | Jessica Eaton |
| Tata Da Goose | 2 | Apr 25, 2019 | 3 - Moe | 1.30 | Jessica Eaton |
| Stryking Miss | 8 | Apr 17, 2019 | 8 - Geelong | 4.60 | Jessica Eaton |
| Call It A Day | 1 | Apr 13, 2019 | 2 - Caulfield | 0.50 | Jessica Eaton |
| Tata Da Goose | 4 | Apr 11, 2019 | 3 - Racing.Com Park | 0.80 | Ms N Beriman |
| Stryking Miss | 2 | Apr 07, 2019 | 8 - Mornington | 0.80 | Jessica Eaton |